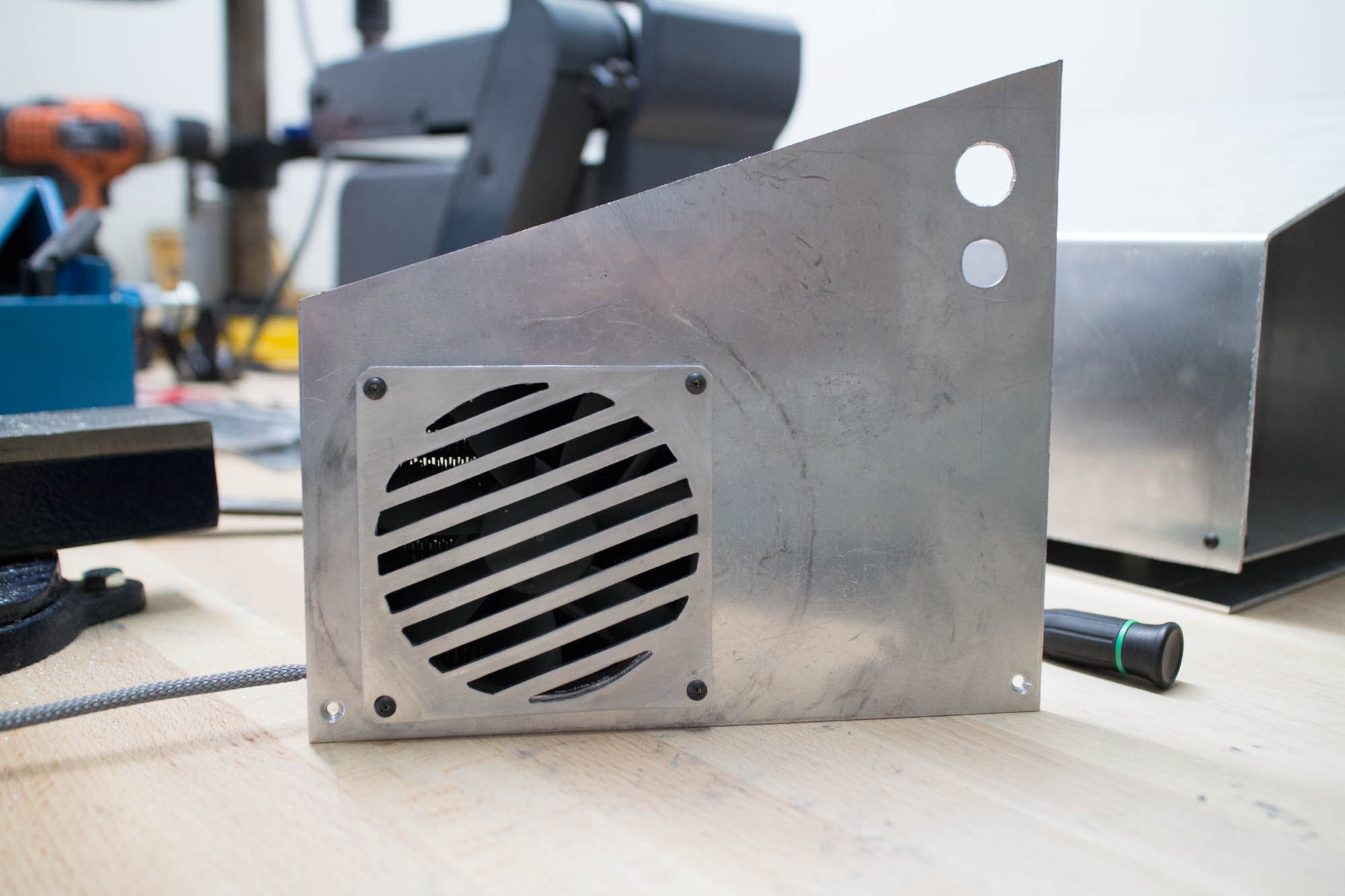 I think it is time for another update! Lots have happened, both good and bad. So I have been a bit unactive here as I had lots of events for work as well I wanted to focus on finishing this build before Dreamhack Summer 2017 as they have a modding contest.
Two days before Dreamhack the graphics card died, so I tried the entire day to get it working without any success, however I still got picture from the onboard graphics so I decided to put together the build anyway and bring it to Dreamhack. However I lost so much time working on the graphics card that I did not get a perfect fit with all the panels.
I need to get a new graphics card, but as I won some prizes at the modding contest I will be able to order a GTX 1050ti now, which will change the layout of the build a little bit (again!). I will also get Asus Strix ITX motherboard as well as a new CPU and that will make it possible to use a M.2 SSD as well so I dont need a 2.5″ drive in the case.
But, Ill show you as much photos as I have from the build process anyway, my phone died so I lost a lot of photos so thats also a bit sad. But today I will show you the fan-grills, the sleeving, IO-cover and how I mounted the SSD.
I mounted the SSD on the side like you see in these photos as that was where it fits best, now this is not needed anymore as I will be using a M.2 SSD later on. But I wanted to show off it anyway, especially how I powered the ssd, as there is not much cables for the Pico-PSU and I already soldered a 4pin and a 6pin to it, I decided to power the SSD from the internal-USB port as a 2.5″ SSD only need ground and 5V+.
I bought a cheap simple fan-controller from eBay to use for controlling the three fans as well as the pump. It fits pretty good on the backpanel. The pump Im using is the DC-LT one with the top and reservoir for it.
For the sleeving Im going with a white-grey-green theme as I really like green and raw aluminium. I also like using the p-clips from MDPC to tie down the cables and make it look neat. The 6pin will be removed later on though as the GTX 1050ti dont need one.
I never liked the look of all the IO-ports, so I wanted to easily cover it up. I measured out the height and width and cut out a fitting aluminium piece for it, bent it and then cut out for caps and other ports on the motherboard.
Later on I will make a simple guide on how to do this. Keep an eye out!
For the front and side I wanted fangrills, first I thought about just cutting out these stripes in the panel, but I decided to go for fangrills as I wanted to paint them mattblack to have a contrast to the raw aluminium.
A talented modder, Laine, helped me with these fangrills and I really like how it all turned out.
The fangrill with the "sails" will be installed on top of the CPU-cooler. I cut out a hole in the frontpanel and installed the fangrill on top of it.
Last thing I did was to paint the fangrills, IO-cover and PCIe bracket matt-black to make a contrast to the raw aluminium. Lastly Ill give you too photos of how the build looked at Dreamhack Summer 2017.
Next update I will have new hardware to show off as well as show you how I put together the case!